Bluehost is one of the best hosting providers powering over 2 million websites worldwide. The company is known for providing top-level hosting services with 99.99% uptime and a 24/7 live chat always available to resolve your issues along with unmetered bandwidth and five email accounts with each hosting plan. Along with all of this, you are also guaranteed a free domain name for the first year. If you aren't satisfied with what you're getting and are unhappy for any reason then you can cancel your subscription anytime within the first 30 days.
Bluehost has a variety of different plans to offer, starting from Shared Hosting, which starts from as low as $2.95/mo up to dedicated hosting which offers you a full dedicated server but with all of the hosting plans you are guaranteed 24/7 customer support, unmetered bandwidth along with improved security, backups, and free SSL certificate. All of these are meant to provide the utmost performance and security for your website.
Bluehost Shared Hosting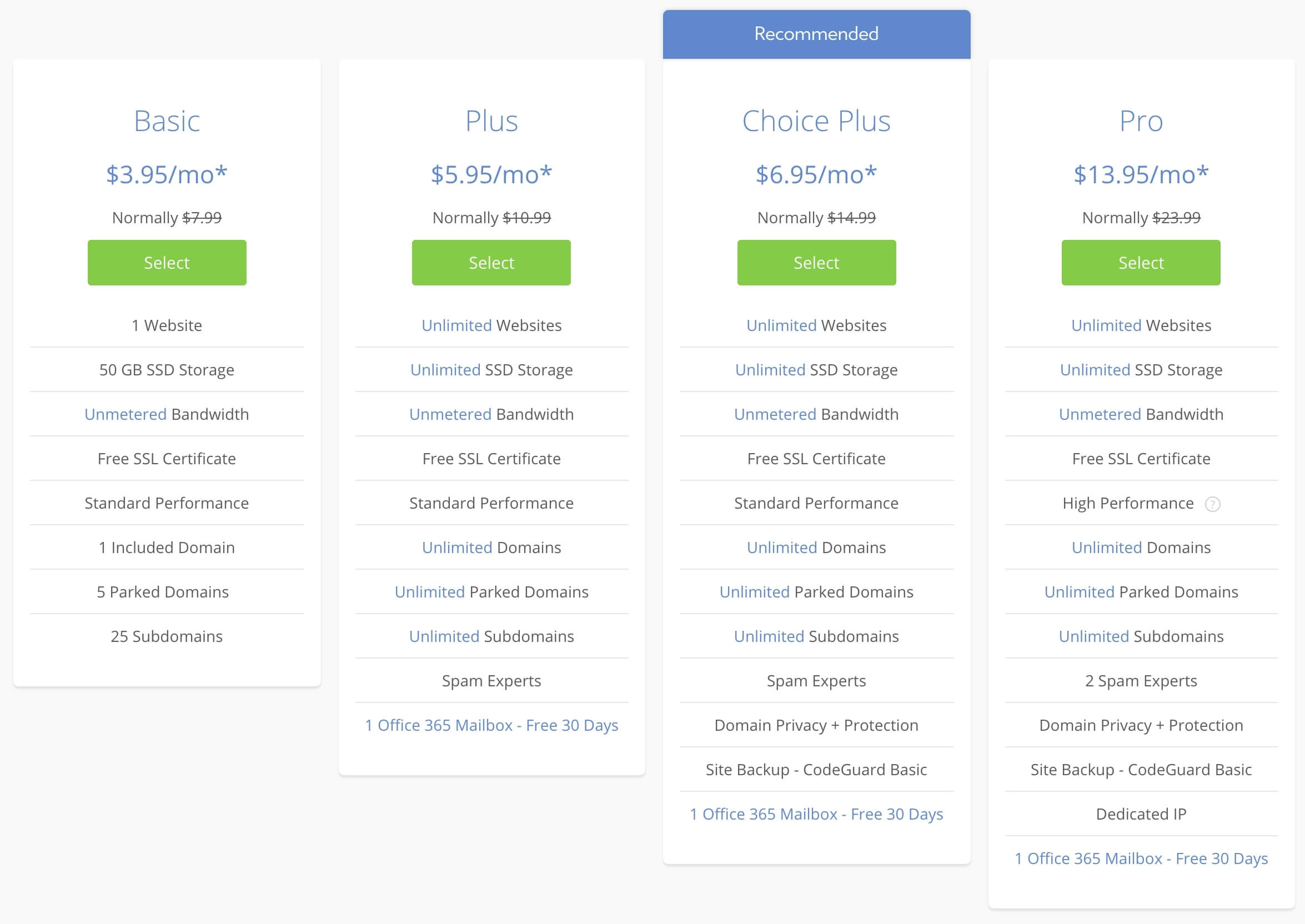 If you are a beginner, looking for a place to host your blog or a new website then Bluehost Shared Hosting might be the plan for you. The Basic plan starts from $2.95/mo and has all to offer that you would need for a growing website. If the basic plan doesn't cater to your needs then perhaps you can try other Shared Hosting Plans that have many more features to offer than the basic plan at a higher price such as unlimited websites, unlimited storage, unlimited domains, etc.
With each of the Shared Hosting Plan you're guaranteed:
Unmetered Bandwidth
SSD Storage
SSL Certificate
24/7 Live Customer Support
Resource Protection
Scalability – upgrade to higher plans as your website grows
$100 Advertising Credit when you spend first $25 on your new Google Ads or Microsoft Ads account
Bluehost WordPress Hosting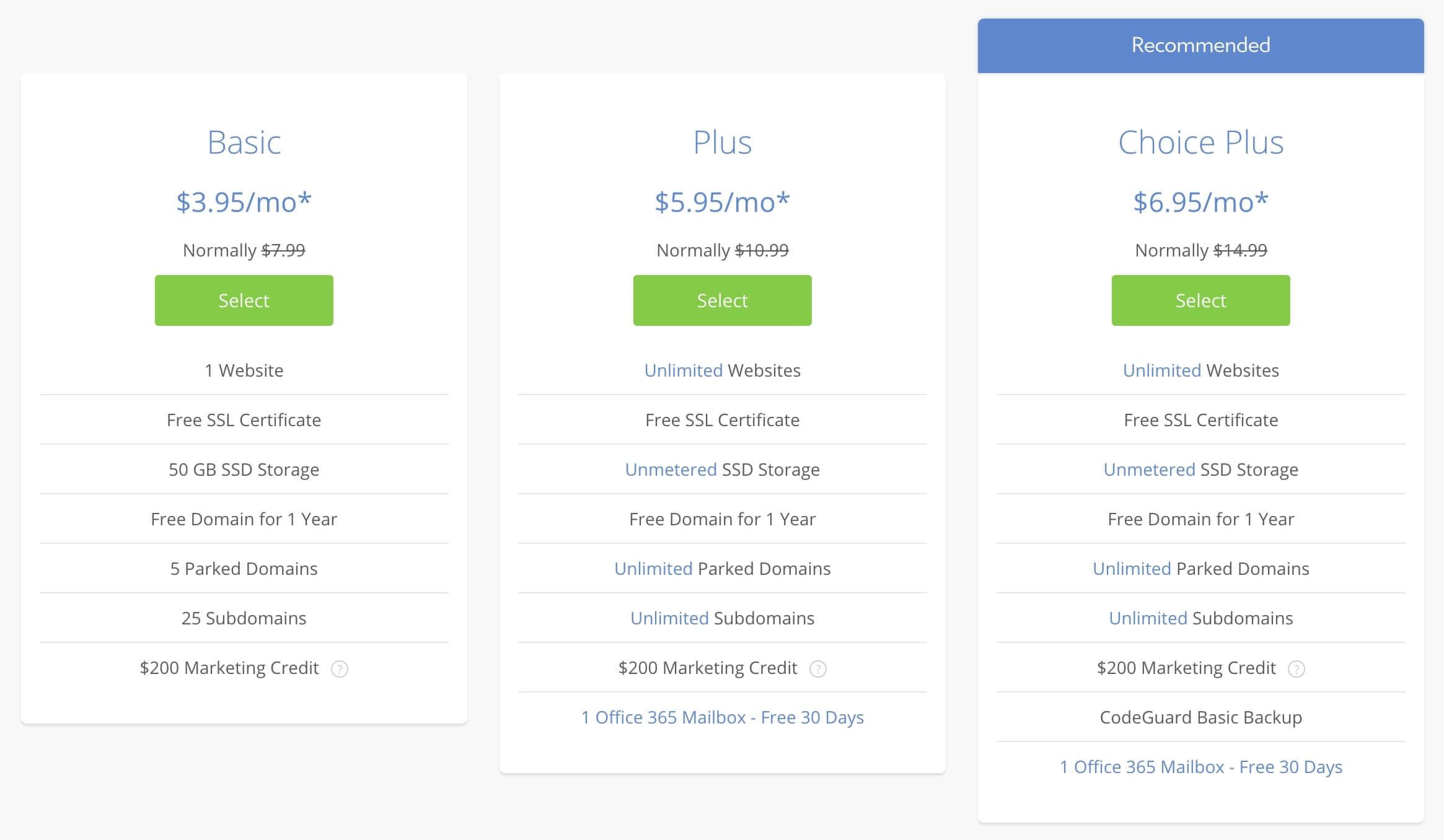 Bluehost is one of the few hosting providers that is recommended by WordPress.org as one of the best and brightest hosting services of the hosting world. Bluehost offers the ultimate WordPress platform that you need for your WordPress website. With WordPress-centric dashboards, 1-click installation, and everything else optimized for WordPress, Bluehost is just the hosting platform that you need for your WordPress website.
It is just the hosting platform that has all the tools and features available that are meant for WordPress speed & excellence. You can manage everything just from a single dashboard.
Bluehost WordPress Hosting has three different plans to offer, starting from the basic one which is about $19.95/mo, and has all the basics that you for starting a professional WordPress Website.
With every plan, you are guaranteed to receive:
Unlimited Websites
Unlimited Domain Hosting
Unlimited Subdomains
Unlimited Web Storage
No Traffic Limits with Unmetered Bandwidth
Daily Scheduled Backups
Malware Detection and Removal
Domain Privacy + Protection
Bluehost VPS Hosting
VPS Hosting is when you are hosting your website on a server with guaranteed resources that are dedicated to your account so, your website has excellent speed and performance. Bluehost has all of the Virtual Private Servers running on SSD storage to provide more power, flexibility, and control over your websites.
There are three different VPS hosting plans to offer, Standard, Enhanced, or Ultimate based on the number of resources your website needs. Every plan has a different price tag based on the resources that you are getting but with each plan, you can't go wrong.
What makes Bluehost VPS Hosting one of the best in the market is the fact that all of the servers are built using SSD storage which offers smoother and faster performance as compared to HDD. All of the resources that are allocated to your server, remain yours no matter what happens on the server, your performance isn't affected and this is what everyone wants and expects the ultimate performance.
Each VPS hosting plan includes:
Free Domain Name for 1st Year
30-Day Money-Back Guarantee
24/7 Support
Multi-Server Management
Add additional resources to your server without any delay
Domain Privacy + Protection
SiteLock
Bluehost Dedicated Hosting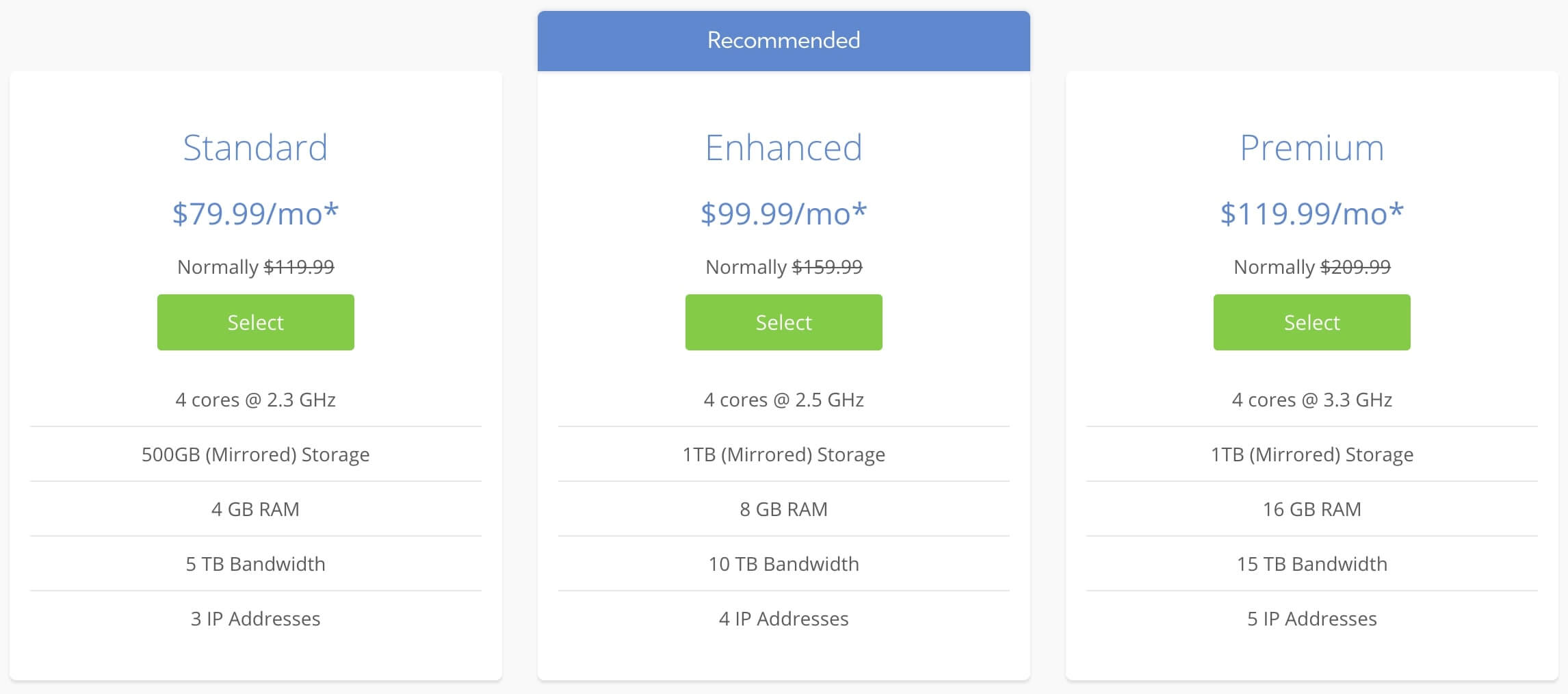 Bluehost Dedicated Hosting is for those who want ultimate performance, security, and control over their websites. With Dedicated Hosting, you are not only getting all the features of all the other hosting plans but you are also getting a dedicated server that is meant only to host your websites only.
The standard dedicated hosting plan starts from $79.99/mo and the highest, premium plan starts from $119.99/mo. Whichever plan you pick, you can't go wrong with anyone because you're getting 99.99% uptime along with top-level performance, security, and reliability for your websites.
Each Dedicated hosting plan includes:
Free Domain Name for 1st Year
Free SSL Certificate
30-Day Money-Back Guarantee
Gain control over everything from the OS to Apache
Improved and dedicated cPanel
24/7 Support
Multi-Server Management
Add additional resources to your server without any delay
Domain Privacy + Protection
SiteLock
Spam Protection