Many Windows user report that there is an unknown application or service that is running in the background of their PC, and most of the time it is either a service which helps in running a different application or it's a resource hungry malware of sorts. Bonjour service is sometimes thought to be the later one while actually its just a component that helps to run a totally different application.
What is Bonjour Service?
Bonjour Service is a service that is used by softwares designed by Apple Inc. and helps run applications like iTunes and Safari for Windows. This generally comes with any Apple application that you install in your computer.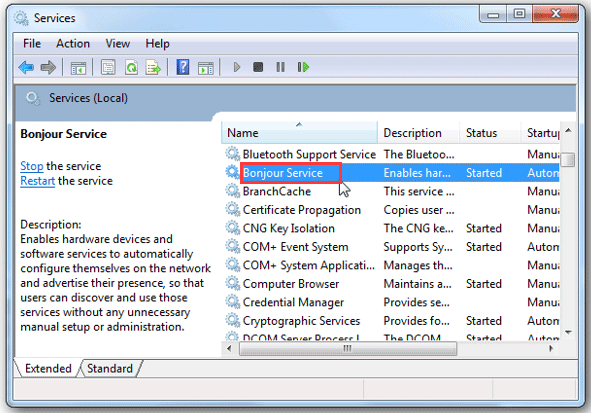 Uses of Bonjour Service
Bonjour Service is a service that is designed so apple devices can communicate between each other. As Windows and MacOS are totally different platforms, they cannot connect with each other. Apple has developed the Bonjour service for this sole reason, to make network connectivity between its products and Windows a not so challenging job.
Should you Keep Bonjour Service running?
If you use the apple made application quiet often then leaving the service on would help the applications like iTunes and Safari seamlessly. In any case if you end the service or disable it, your applications might not run and you might have to restart or re-enable the service.
Bonjour service is needed to connect Apple products on the same network with each other, so in theory if you want to connect your PC to your iPhone, then you should definitely keep the service on.
How to disable Bonjour Service?
Disabling this service is just like disabling any other process or service in Windows. To disable Bonjour service, there are two ways:
Way 1:
The easiest way to disable Bonjour service is to just uninstall it.
To uninstall Bonjour service,
Go to Settings and then go to Apps and Features.
Search for Bonjour on the search bar.
Click uninstall and that should do it.
Note: This will completely uninstall Bonjour service and you might not be able to use installed apple softwares anymore.
Way 2:
This is the not so easy way but it gives you the complete control of again re-enabling of the service.
To temporarily stop Bonjour service, follow these steps:
Press Windows + R key to open Run
Type services.msc and click enter
In the services tab, find Bonjour Service and right click on it.
In the pop-up window, search for properties and left click on it.
Now on the new window there are two ways you can tackle the problem, they are:
You can see the service status and below that there will be an option stop. If your click on stop it will stop the service for now until the computer is restarted.
If you completely want to disable the service, the on the startup type change the option from enabled to disabled.
These steps should help you either disabling the service completely or stop it temporarily until you restart your computer.
FAQs
Is Bonjour an application?
No, its not an application per se, but it's an extension of other apple applications.
Is Bonjour Service a malware?
No, its not a malware or virus if you have or had apple developed application on your PC. If in any case you never installed apple developed application. Its is recommended to uninstall or remove the service completely.
Does Bonjour Service clog resources?
Not always. It is used only when the application that is using it is running. Other times it runs idle.
Which Operating Systems does Bonjour support?
Bonjour supports the following OS' :
Windows 10
Windows 7
Windows Vista
Windows XP
P.S: Bonjour doesn't officially support any Linux distros as of now.
Was this article helpful?