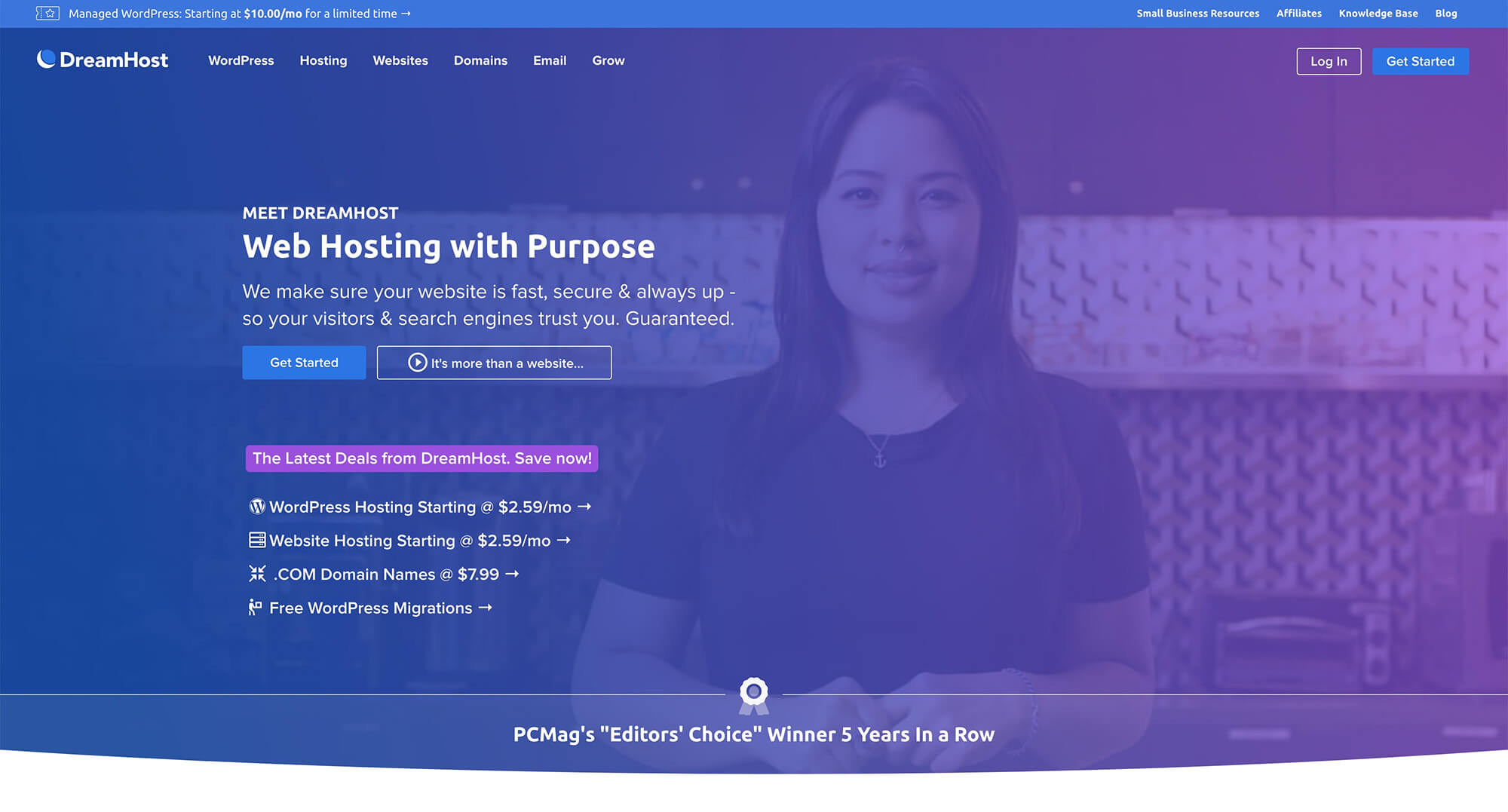 Dreamhost has been a trusted web hosting provider from over two decades with fast, optimized and easy to use servers and toolkits to build solid foundation of your website. Dreamhost also has a wide range of hosting services to offer, from shared web hosting all the way up to dedicated web hosting and cloud hosting.
With each hosting plan, you are guaranteed 99.9% uptime with unlimited bandwidth and a whopping full 97-day money-back guarantee to test out the service and 24/7 Expert Support service. Every hosting plan is relatively simple and super easy to use so you won't have a hard time managing your website.
Dreamhost Shared Web Hosting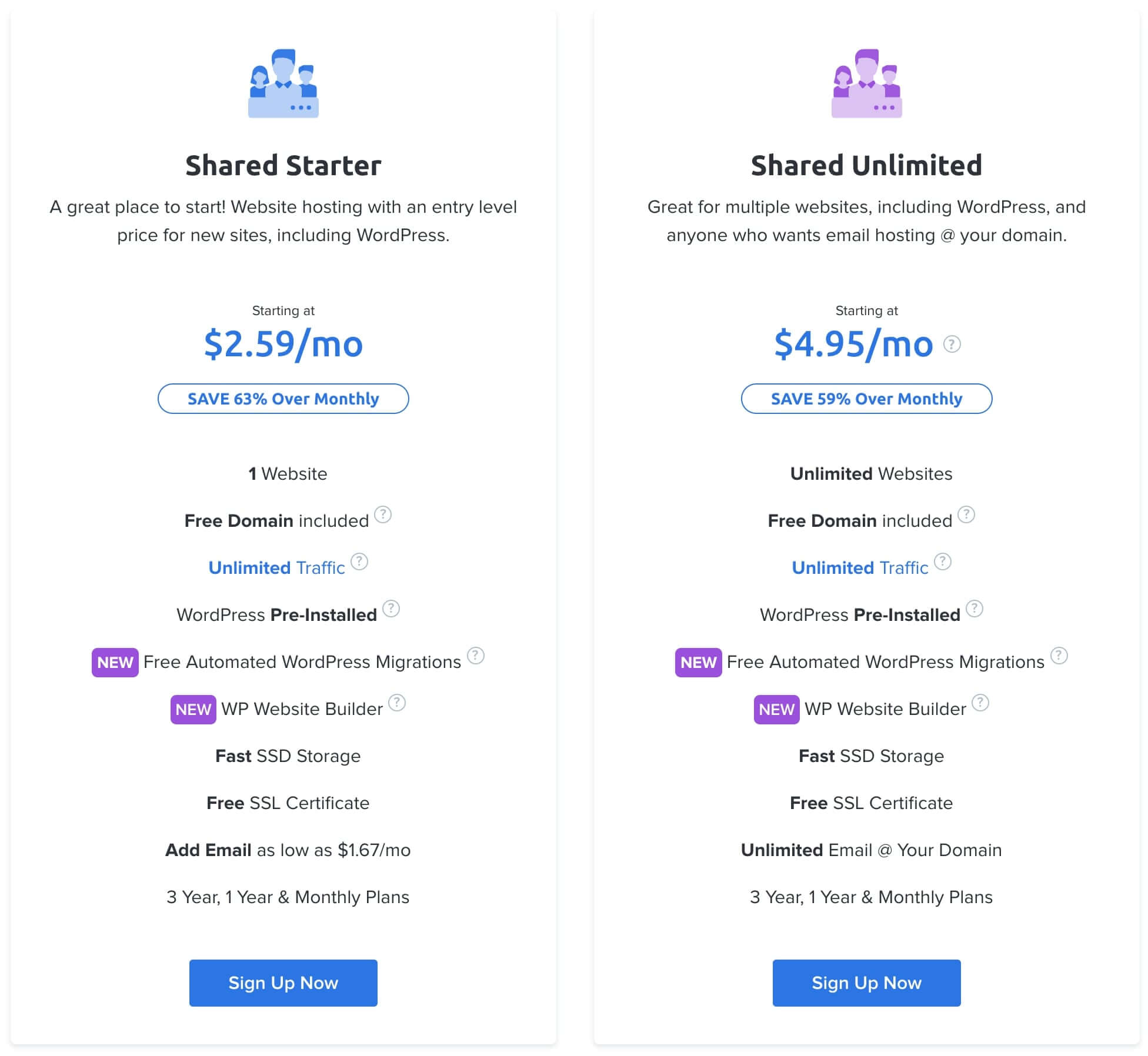 Dreamhost Shared Web Hosting is a great way to get started with your online business or website. With Dreamhost, it is very easy to start your online journey and begin on the right foot. Dreamhost offers a lot of features that will help you during the growth of your online business and is also light on your pocket.
Dreamhost also cares about the speed and performance of the websites and makes sure that it holds itself to the highest standards to provide top speeds and performance to your website.
Here are the features that are included in each shared hosting plan:
Free Domain for 1 Year
Free Email Address
Unlimited Bandwidth
Unlimited Storage
Fast SSD Storage
Free Automated WordPress Migrations
Free SSL Certificate
WP Website Builder
Automated Backups
Dreamhost WordPress Web Hosting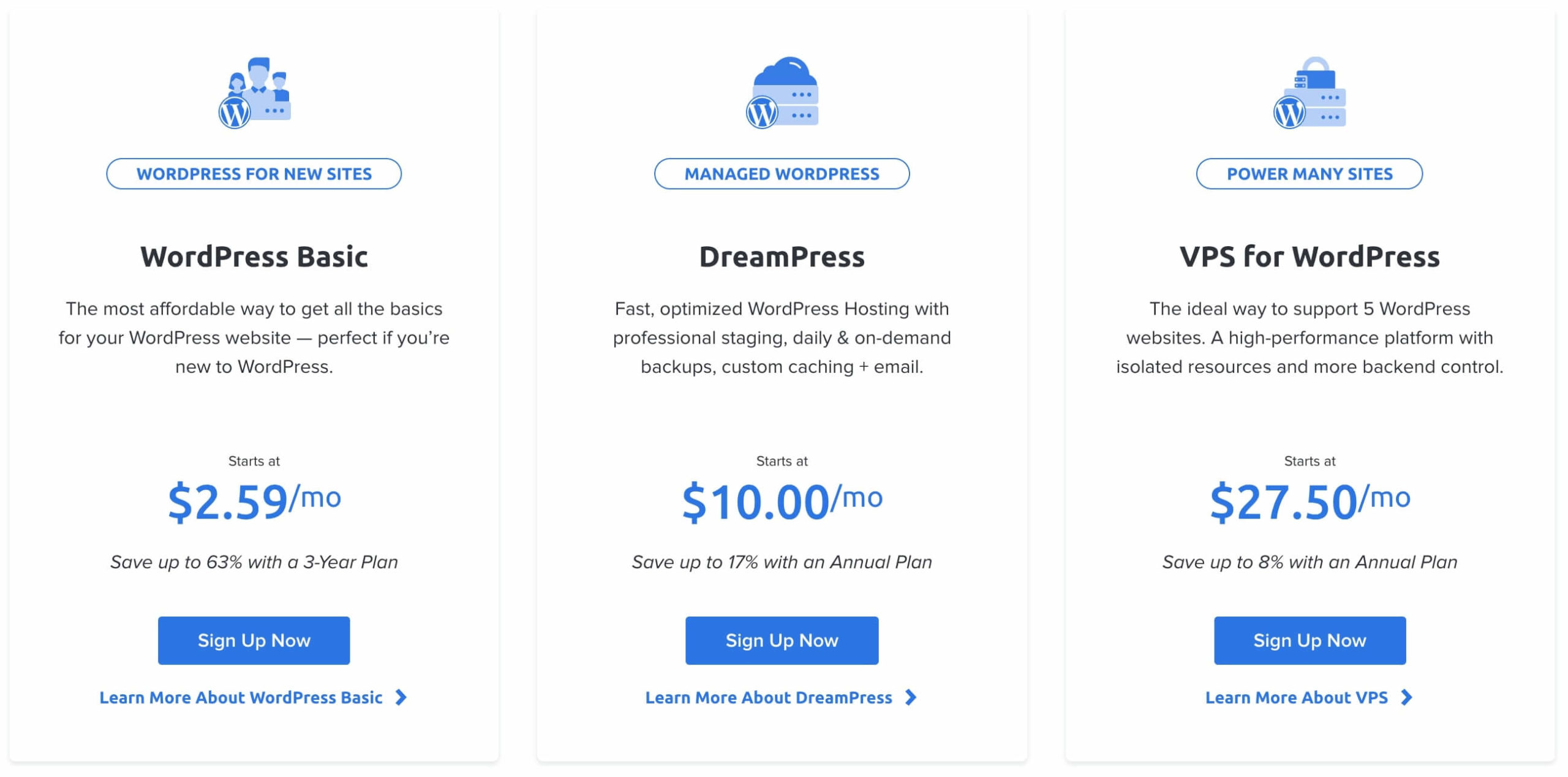 You will find many hosting services offering dedicated WordPress Hosting but you will find only a few which a recommended by WordPress.org and Dreamhost is one of those hosting services which is recommended by WordPress.org.
You get unbeatable, reliable, and super-fast hosting that is specifically optimized for WordPress.
With Dreamhost WordPress hosting, it easy to build and manage your WordPress website. Whether you are looking to start a new online business or a new website or blog, you get covered with Dreamhost WordPress hosting plans with auto-updates and everything else is also pre-optimized for WordPress with free access to hundreds of different themes and powerful plugins to power up your website.
All the WordPress hosting plans come with robust features so, that you don't have any difficulty during any step of your online journey. Here are the powerful features that you get with every WordPress Hosting Plan:
Instant WordPress Setup
Auto WordPress Updates
Free Domain name for 1 Year
Free Privacy Protection
Free SSL Certificate
Free Email Hosting
Automated Backups
Unlimited Bandwidth
Fast SSD Storage
Dreamhost VPS Hosting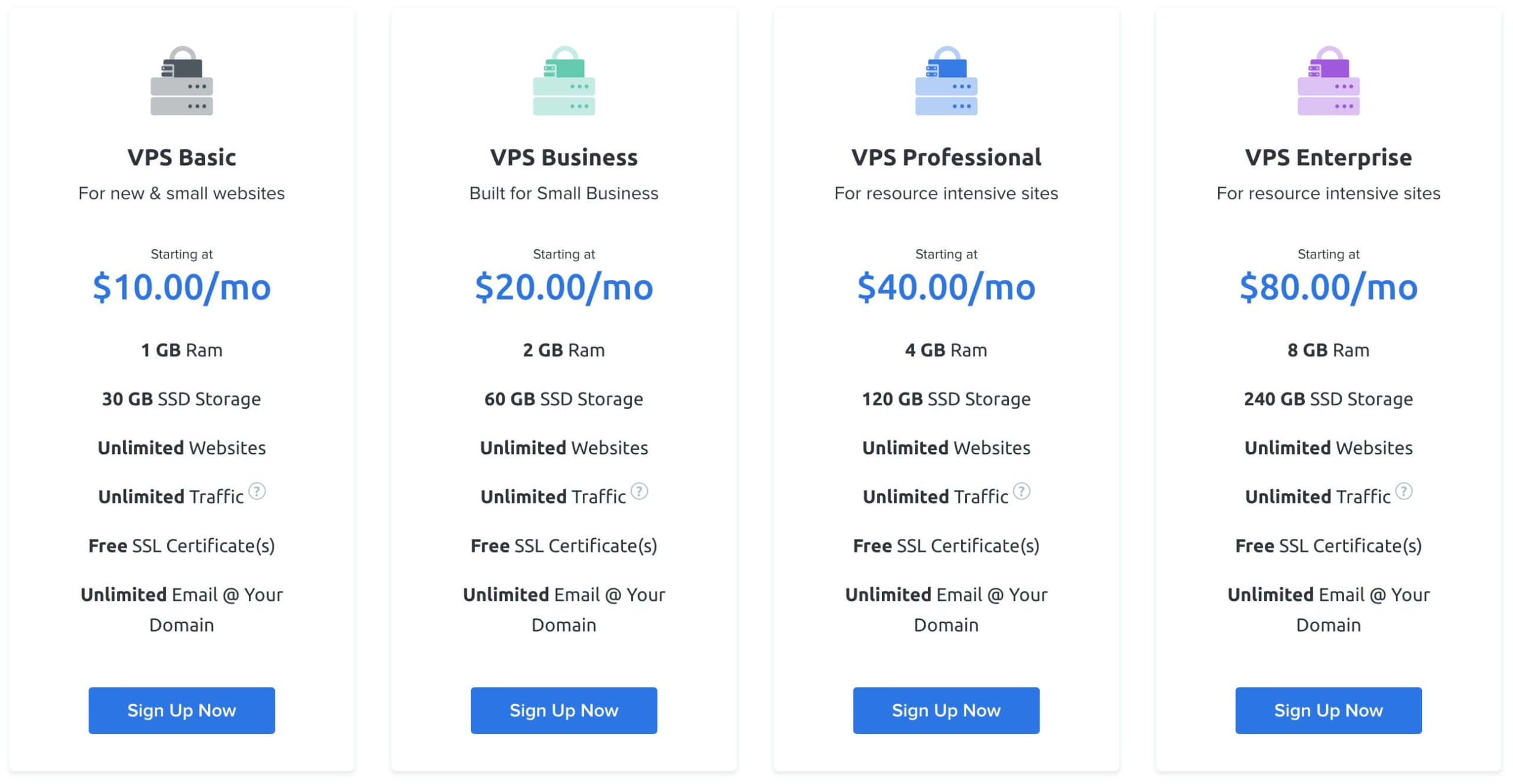 VPS or Virtual Private Server Hosting is a type of hosting service in which resources which are allocated to a user are allocated to him only and the actions of other users don't affect the speeds or performance of the websites.
This lets the VPS users enjoy faster speeds and more consistent performance all the time. In case your website starts getting more traffic and you need more resources, you can instantly add more resources to your VPS without facing any delay/downtime.
Unlike other services, the VPS control panel is easy to set up and manage. You can get started in just a few minutes, the custom control panel is simple yet contains all the options and features that you need.
With VPS Hosting you get the features of dedicated hosting without having to pay the price of it.
Here are the features that are included in every VPS Hosting plan:
Unlimited Website Hosting
Scalable Resources
Unlimited Bandwidth
Fast SSD Storage
Free SSL/TLS Certificate
Unlimited Email Accounts
Reseller and Sub Account Features
Expert 24/7 Support to help you solve any issue
Dreamhost Dedicated Hosting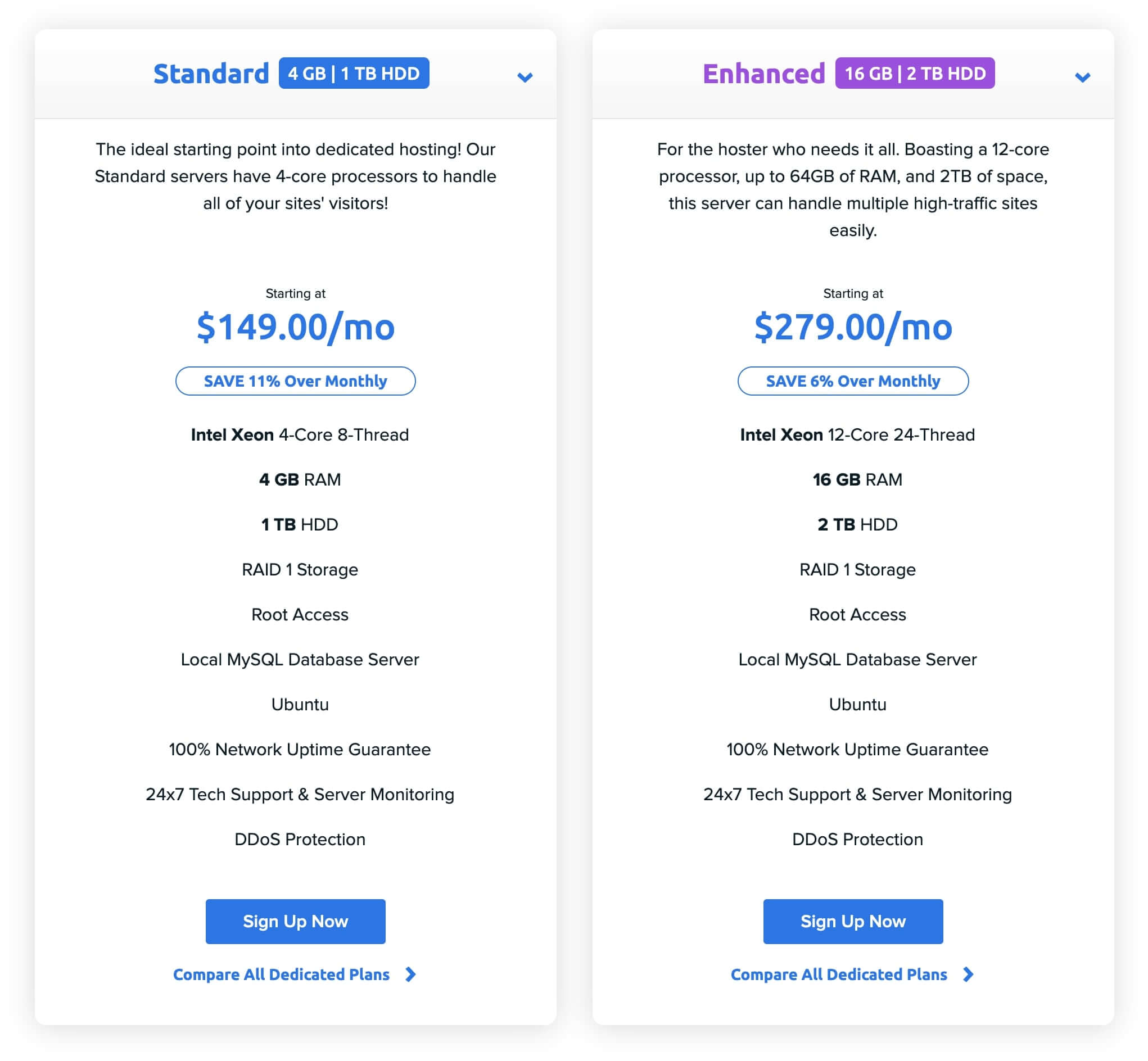 With Dreamhost dedicated hosting, you get a dedicated physical server where all the resources of the server are available to you. This plan suits when you require to handle more traffic and requests. It ensures full control, power, security along with fast performance.
You don't have to worry about sharing your resources with anyone else and all the resources are available for your use. This means that your server remains secure and you can expect high levels of traffic with consistently along with fast page loading time.
You get full root & shell access to get maximum control over your server and make changes to the server when required. With the Reseller and Sub Account Feature, you can create an unlimited number of sub-accounts
100% Uptime Guarantee
24/7/365 Expert Support
Full Root & Shell Access (SSH)
Ubuntu Linux
RAID 1 Storage
DDoS Protection
Unlimited Bandwidth
Reseller and Sub Account Features
Choose either HDD or SSD as storage