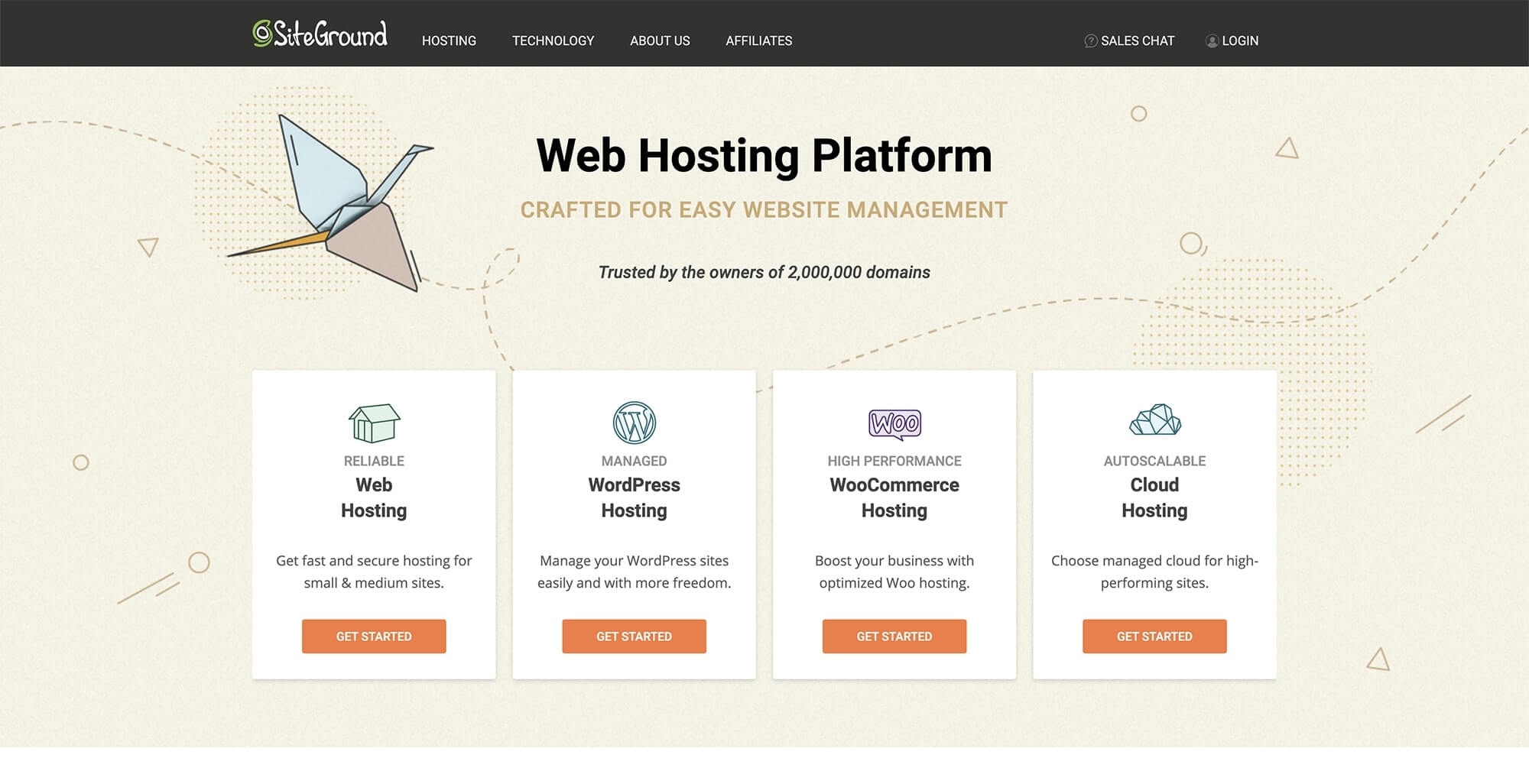 SiteGround web hosting platform is powered by Google Cloud which offers ultra-fast performance, security and uses 100% renewable energy match.  SiteGround impresses everyone with 99.99% uptime, fast speeds, expert customer support team but along with that you also get a CDN, SSL certificate, and email accounts free with each of the hosting plans. That is why it is trusted by owners of over 2M domains.
SiteGround Web Hosting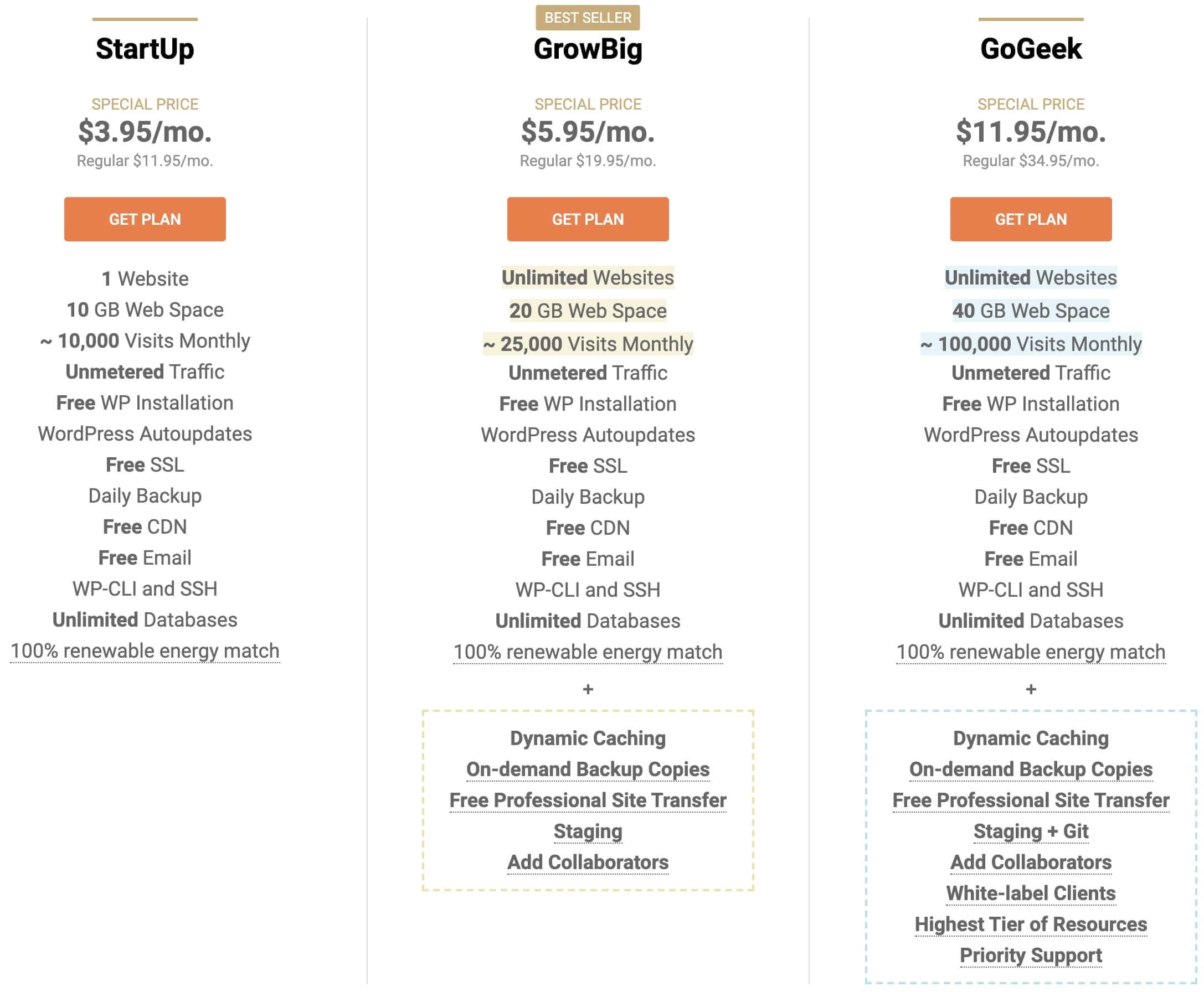 Starting from $3.95/mo, SiteGround Web Hosting might be the hosting option that you need to get your new website/business up and running.
To make your website successful, you need fast & secure web hosting and SiteGround just provides you will all the essentials that you need, starting from security and privacy to fast speed, you get all with SiteGround.
For beginners who don't know much about building websites, you also get a website builder of your choice to launch your site quickly and get started.
What makes SiteGround different from the rest is that their hosting platform is entirely built on Google Cloud and uses its ultra-fast network and SSD storage, providing ultra-fast speeds.
Here are the features that you get with every Web Hosting Plan:
Unmetered Bandwidth
SSD Storage
Free WP Installation
WordPress Auto updates
Free SSL Certificate
Daily Backup
Free CDN
Free Email
WP-CLI and SSH
Unlimited Databases
SiteGround WordPress Hosting
An estimated 30% websites of all websites in the internet are running on WordPress CMS and this is due to the fact that WordPress is powerful and fully customizable with its open-source code yet very simple and easy to use. So, it isn't surprising to see dedicated WordPress Hosting.
SiteGround WordPress Hosting service is one of the few hosting services which has been recommended by WordPress.org as a hosting service to host your WordPress websites and SiteGround ensures that it provides its customers with top-notch features.
The WordPress Hosting Plans start from $3.95/mo and go all the way up to $11.95/mo. You get everything optimized for WordPress that speeds up your websites and being built on Google Cloud Platform, you get unmatched WordPress performance.
The price of each hosting plan is based on the features you get but you are guaranteed these features with every plan that you choose:
Unmetered Bandwidth
SSD Storage
Free WP Installation
WordPress Auto updates
Free SSL Certificate
Daily Backup
Free CDN
Free Email
WP-CLI and SSH
24/7 Expert WordPress Hosting Support
Free WordPress Transfer
SiteGround Cloud Hosting
If your website has exceeded the resources of shared hosting then perhaps it is the time to move your business to the next level with SiteGround Cloud Hosting which provides unmatched performance.
The SiteGround Hosting Services are built entirely on Google Cloud Platform and with Cloud Hosting you are guaranteed powerful dedicated resources with the platform optimized for efficiency and performance to provide fast speed and unmatched performance of your website.
The cloud service is fully managed by the most experienced and experts who know their way around and can manage your cloud account so, you can focus on your business and forget about the IT aspects.
The cloud hosting service is always ready for growth and if at any time, you feel the resources aren't enough to cater to the needs of your website(s) then you can always add more resources and with the auto-scale option, you can prevent traffic loss and downtime during unexpected traffic spikes.
Here are the features that you get with SiteGround Cloud Hosting:
24/7/365 Expert Support
Add resources as you want to
Host and make your own clients on your Cloud account
Automatic WordPress and WooCommerce updates
Dynamic Caching
SSH & SFTP
Dedicated IP
Free CDN
Free SSL
Daily Backups
SiteGround WooCommerce Hosting
If you are looking to start your online store then you should try out SiteGround Managed WooCommerce Hosting which is designed to help your store grow and help you sell more online.
Recommended by Woo, SiteGround WooCommerce Hosting has all the features that your online store needs to start and grow.
If you have any WooCommerce store then you can migrate it to SiteGround Hassle-Free in just a few minutes using the free SiteGround Migrator plugin.
Here is what you are guaranteed with each hosting plan:
Unmetered Bandwidth
SSD Storage
Free SSL Certificate
Daily Backup
Free CDN
Free Email
WP-CLI and SSH
24/7 Expert WooCommerce Hosting Support
Unlimited Databases
AI anti-bot system