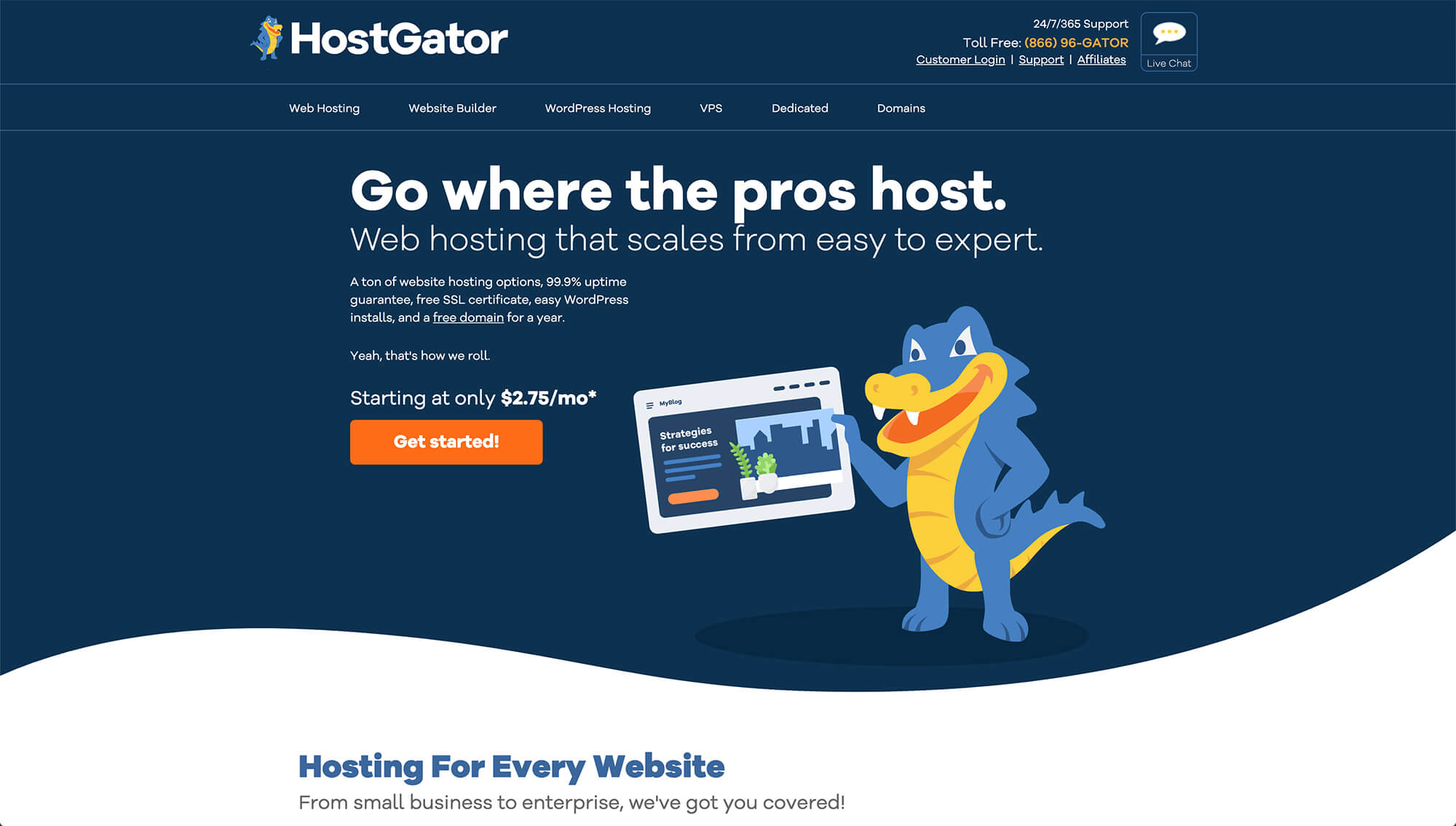 HostGator is one of the leading web hosting provider which offers secure, easy to manage and scalable web hosting plans for individuals to enterprises. HostGator is owned by Endurance International Group which also operates premium hosting brands Bluehost and iPage.
With unmetered bandwidth, storage, 99.9% uptime, and 24/7 expert support service, you can rarely run into an issue that cannot be solved and with a 45-day money-back guarantee with each plan, you can cancel your subscription in the given time if you are not satisfied with their service.
For beginners, their service is very user-friendly and they help you to migrate your website and cPanel for free if you get in touch with their support in the given time. Their website also has different tutorials, walkthroughs, and more to help you understand how these things work.
HostGator Shared Hosting
HostGator Shared Hosting is ideal for beginners and people who are just starting their business. This hosting service has all the features and resources that are required to get a new website up and running.
You get a different set of tools to help you with your website. From one-click application installation to site building tools and themes, you get everything that you need to launch your new websites. For any help, their 24/7 Live Support team is always available to help!
HostGator Shared Hosting has three affordable plans to offer starting from $2.75/mo and going to $5.95/mo.
Here are the features that you get with each shared hosting plan:
Free Domain for 1st Year
Free SSL Certificate
Free WordPress/cPanel
Website Transfer
Unmetered Bandwidth
Unmetered Storage

Unlimited

 Sub Domains, FTP Accounts,
and Email Accounts
$100 Google Adwords and Bing Ads Credit after you spend $25 on advertising
HostGator WordPress Hosting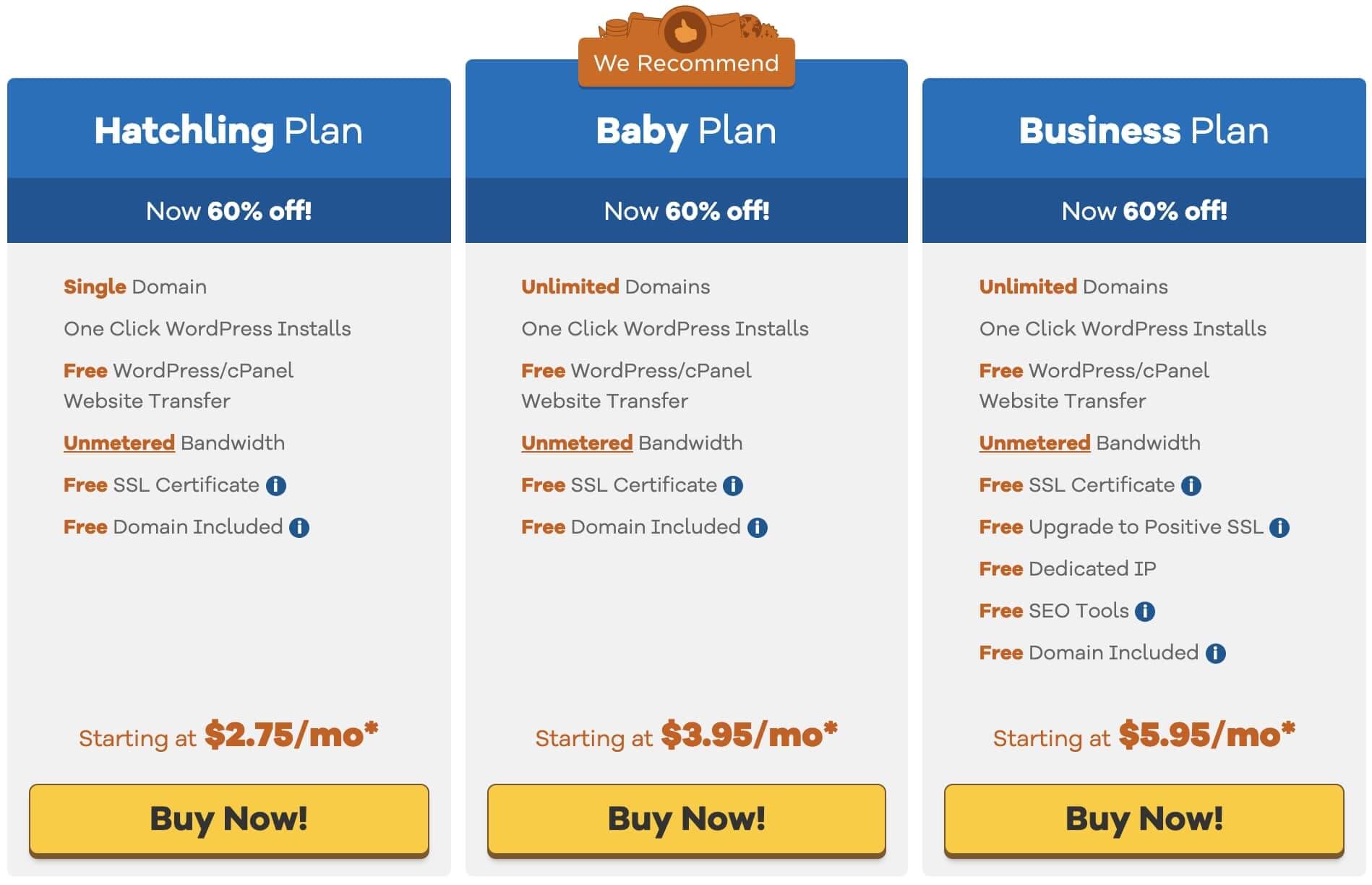 HostGator WordPress Hosting is optimized for WordPress websites and boosts the speed & performance of your website. As compared to other hosting services, you can see up to 2.5X faster load times for your WordPress website and increased performance because the content of your website is managed more efficiently.
You get a clean and simple WordPress Cloud Interface that focuses on simplicity and minimizes any sort complexities and with the auto-backup option, you can restore your website with one-click in case anything goes wrong.
To avoid any downtime, you can handle traffic spikes with easy scalability to increase the resources for your hosting plan. Also, with free migration service, you can easily migrate your existing WordPress website to HostGator with the help of their expert customer support.
Here are the features that you get with each WordPress hosting plan:
Free Domain for 1st Year
Free SSL Certificate
Free Website Migration
Unmetered Storage
$100 Google Adwords and Bing Ads Credit after you spend $25 on advertising
Automated Daily Database Backups
Automatic Malware Removal
HostGator VPS Hosting
VPS (Virtual Private Server) Hosting provides you with resources that are allocated to you only. These resources will be available all the time and will not be affected by the activity of other users. So, you get dedicated control & functionality in a scalable environment.
HostGator VPS Hosting grants you full root access which allows total control over hosting server including custom installs and configuration with your virtual private server hosting. The VPS and all the resources are allocated to your website(s) only.
This gives you all the benefits of dedicated resources without the cost of a dedicated server. As you see an increase in the audience of your website, you can easily add additional resources any time you want to prevent any performance issue.
For security and privacy, there are multiple layers of network security with a RAID 10 disk configuration providing maximum data protection.
HostGator currently offers three VPS hosting plans starting from $19.95/mo going to $39.95/mo. The price of each plan is based on the resources that will be allocated to your account.
Here are the features that you get with every VPS Hosting Plan:
Full root access
Host unlimited domains
Create unlimited sub-domains, email addresses, databases, FTP accounts, and private nameserver.
Free website development tools
Thousands of free and premium themes
Weekly Off-Site Backups
HostGator Dedicated Hosting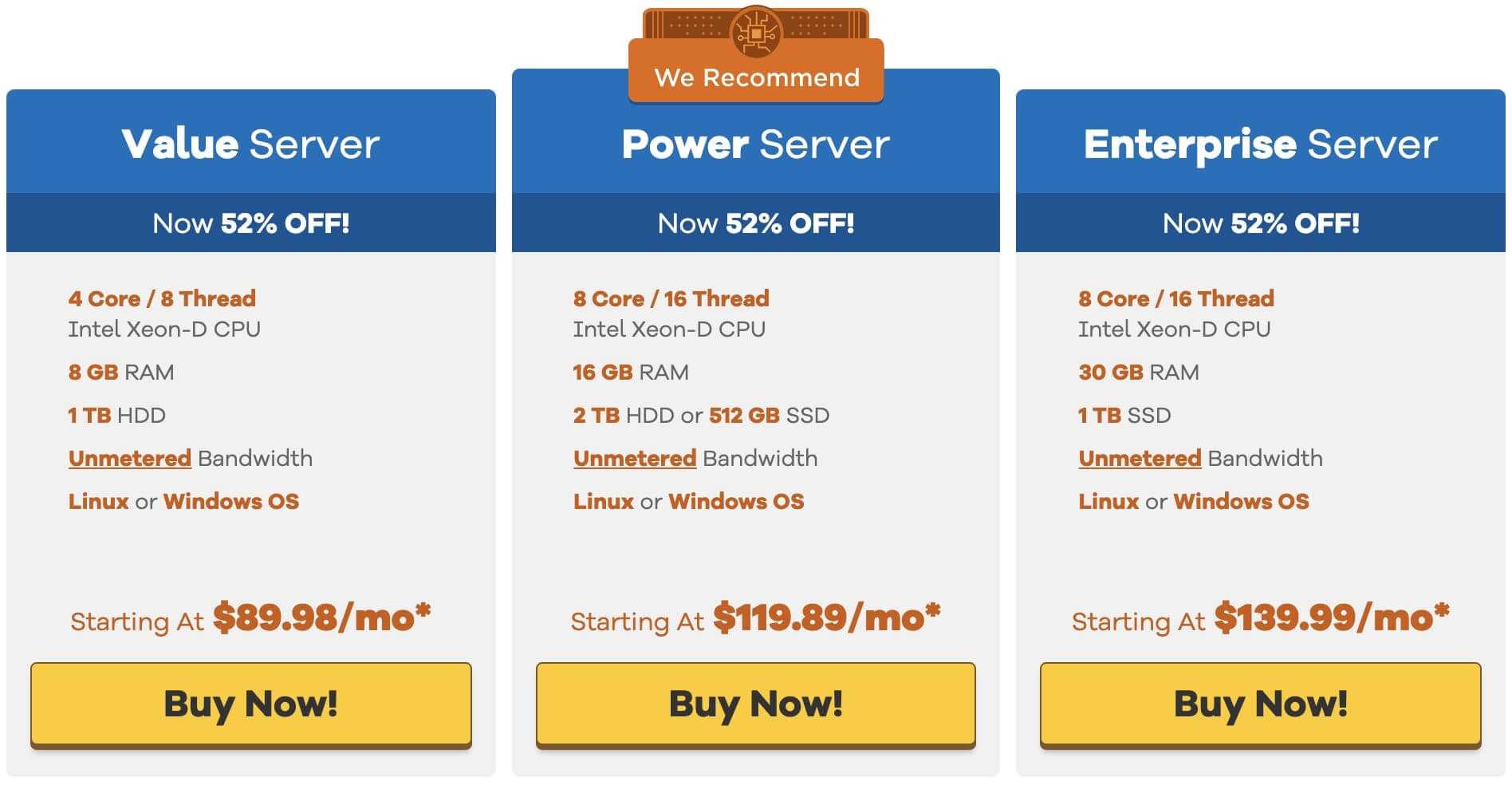 Dedicated Web Hosting is when you are renting out a complete physical server to your website only. This means that all the resources of the server are not shared with anyone else and allocated only to your website(s).
The advantage that you get with dedicated hosting is that the performance is much faster because you're not sharing resources like bandwidth or storage with other users.
For people who have huge businesses and high-traffic websites that require ultimate performance, dedicated servers are ideal. You get maximum customization and configuration along with ultimate speed and performance.
You get the option to choose HDD or SSD for storage, giving you the flexibility to choose what's best for you. For support and assistance, you get two options Managed Solutions Or Semi-Managed Solutions. Depending on how well you excel at such things, you can choose the support option that best fulfills your needs.
All the HostGator dedicated servers include:
3 Dedicated IPv4 IPs
RAID-1 Configuration
Full Root Access
DDOS Protection
24/7/365 Live Support
Unlimited Databases
Fully Redundant Network